If there's one thing we've learnt about evangelizing an awesome, efficient and hardworking digital assistant, it's that it takes time and guidance—even for the most savvy among us.
"What do I say? Is there a specific command I need to include? What if I say Tues instead of Tuesday? What do you mean by speaking naturally?"
When we tell our users to communicate with Evie as they would with a regular person, it doesn't always turn out quite as straightforward as we hope.
And, not everyone likes going through a user guide or even has the time to (but hey, if you do, check this one out). It is only natural for people to want to jump right into getting their assistant to take a load off of them.
This got us thinking, "How do we help you talk to Evie when you need it most?"
Cue Evie's Outlook Plugin
Get the help you need right where you'll be—your email outlook. Whenever you open up a fresh, new email, we'll be there to guide you.
With the help of our standard request template, recruiters are a few clicks away from building an interview scheduling request. At the same time, users get a good idea of the extent of Evie's language understanding and scheduling abilities.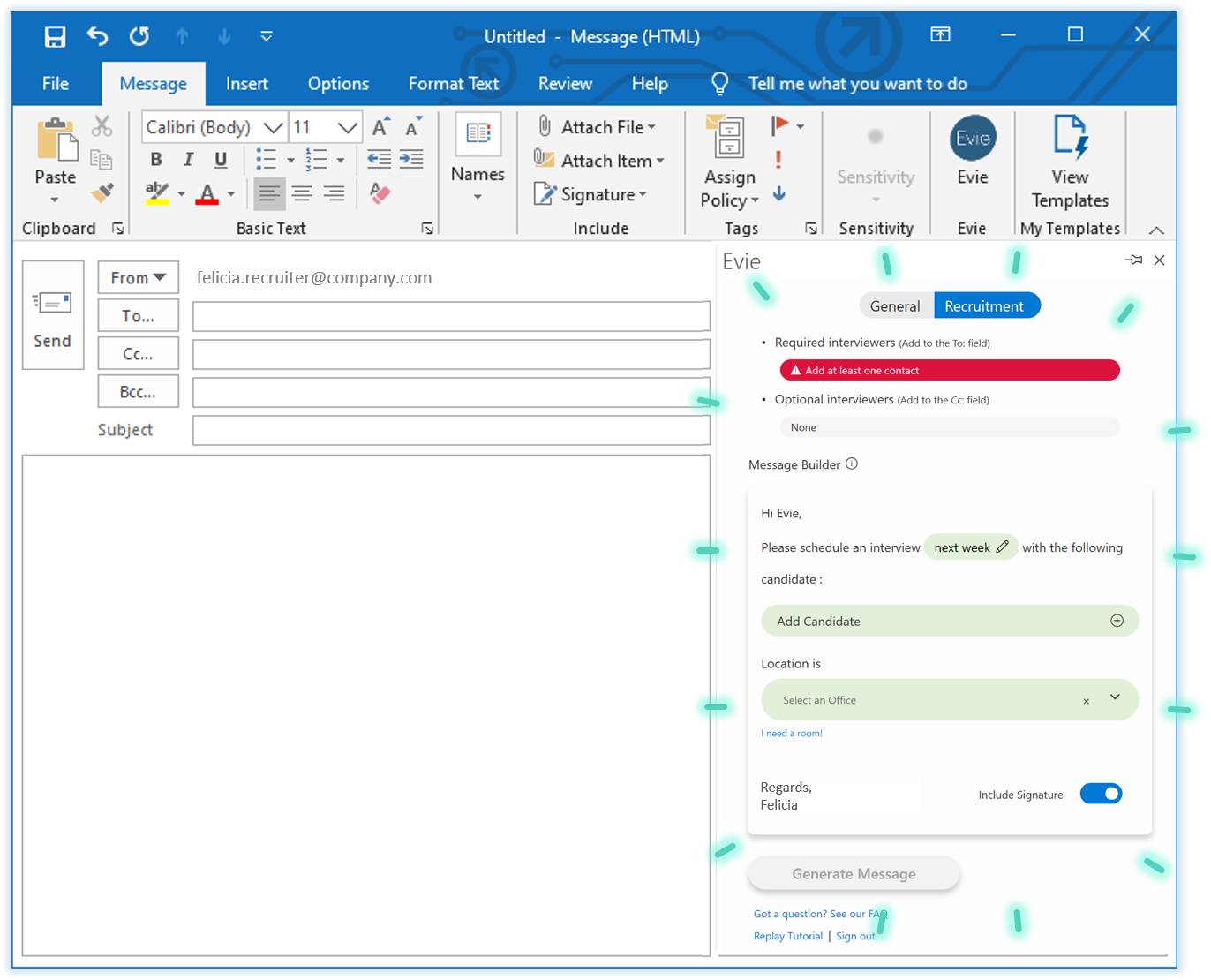 And for those of you who've been guilty of leaving Evie out of the cc (I know I have), that's one less thing to keep in mind because Evie will now be, conveniently, automatically cc'd.
If your team has set up multiple offices or meeting rooms, this information will be available to you via a drop-down list. No longer will you need to remember the names of office locations nor keep a list of it somewhere on your already-cluttered desktop screen.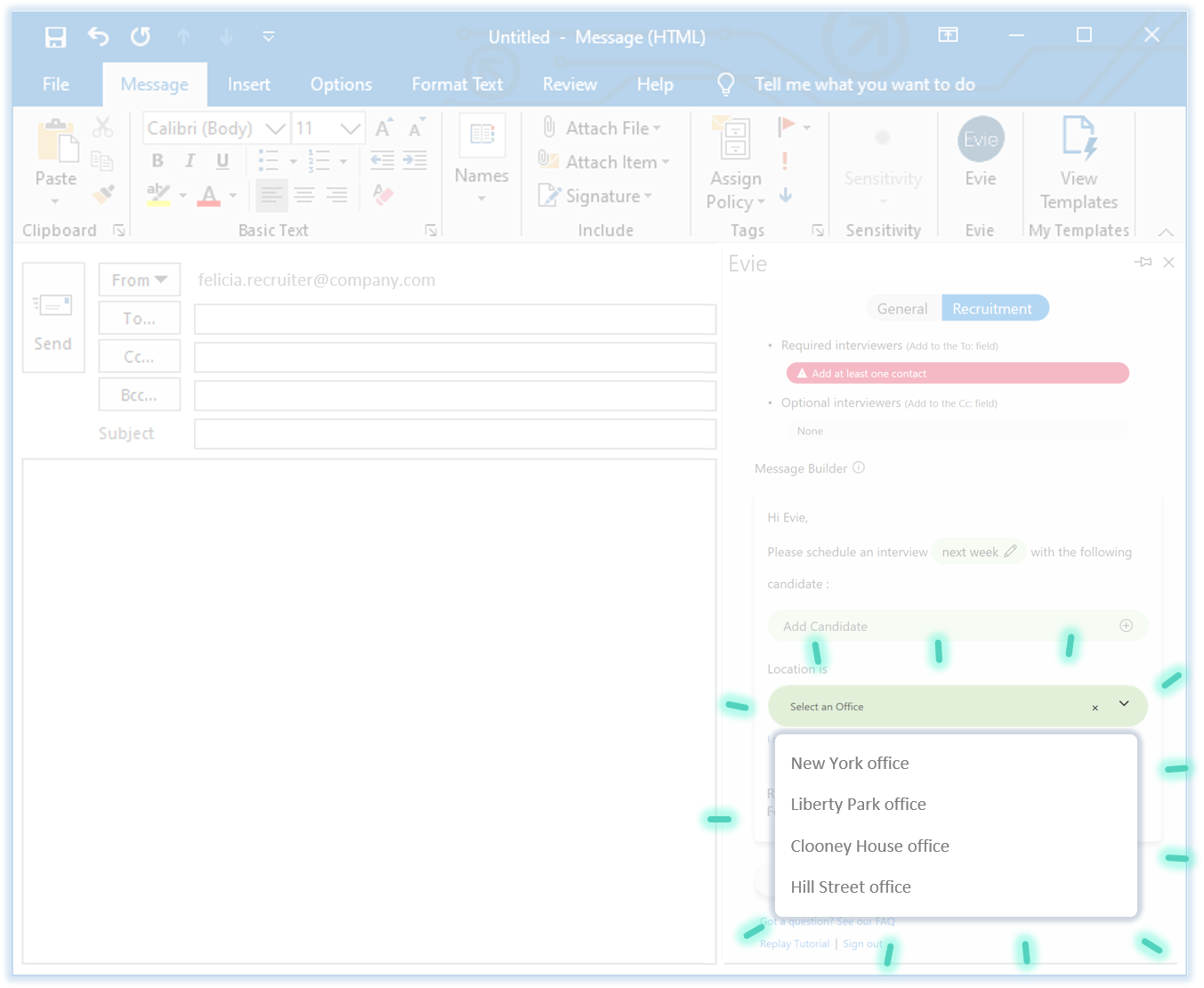 And with a click of a button, voila!
Evie's ready to start scheduling all those interviews. You simply need to add some interviewers to your recipient list and hit 'send'.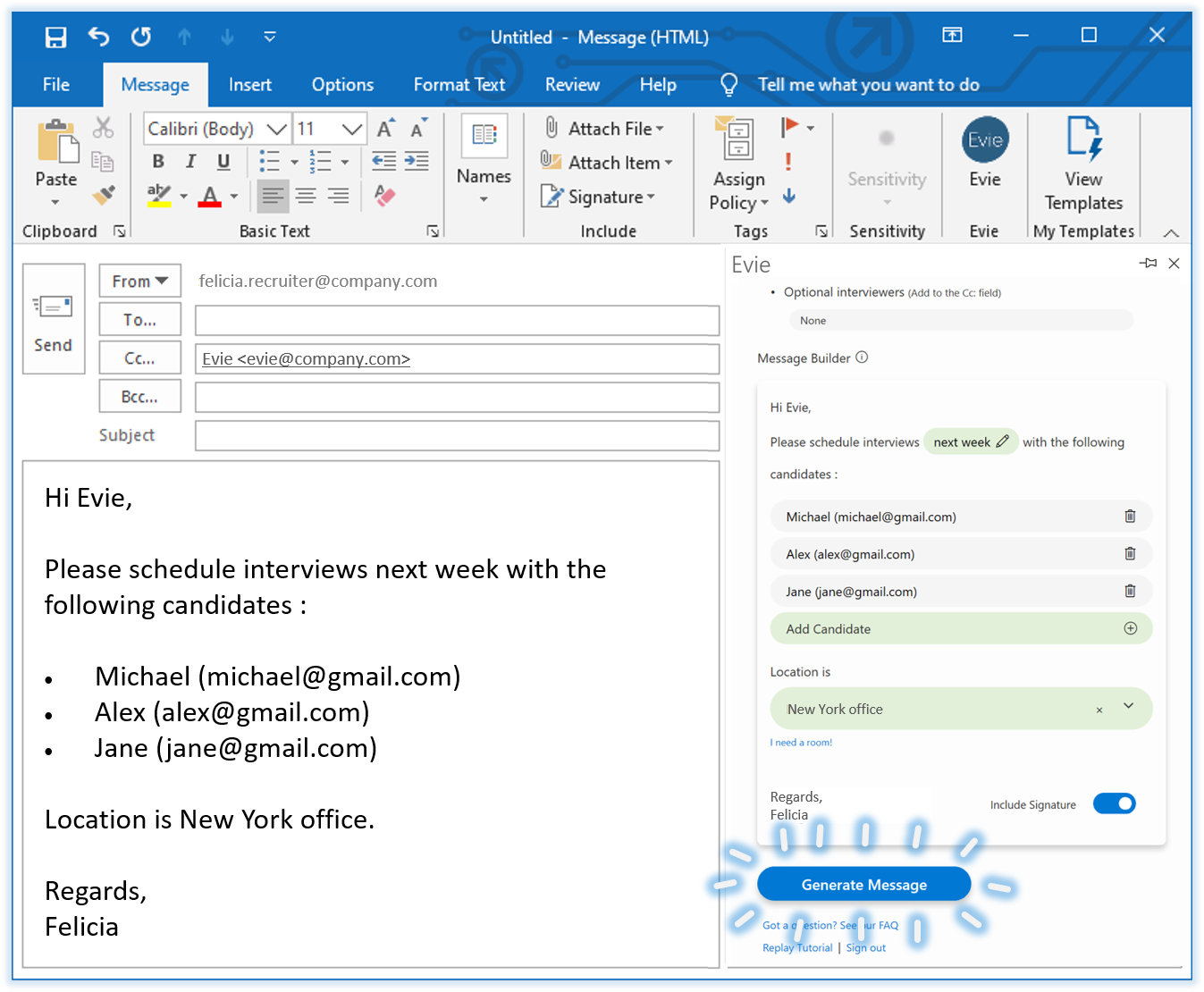 If you aren't already pinning this to your Outlook client at this point, check out the Outlook Add-in Marketplace where you can download and use this for free as long as you have a registered account with Evie.
This plugin will only get better with time as we build in more features and tips that'll make you a pro at working with your AI recruitment coordinator. (If you have any ideas, feel free to send them to hello@evie.ai - it'll be much appreciated!)