As we've mentioned before, setting up interviews takes a collaborative effort. Much like a team sport, there are certain plays recruiters can get familiar with to respond smoothly to any unexpected situation.
1. You have no clue at all
You may not have any idea when the interviewers prefer to do interviews, and it would be more productive to delegate the entire task to Evie to find that out.
Simply trigger Evie to kickstart the interview scheduling process, with just an email!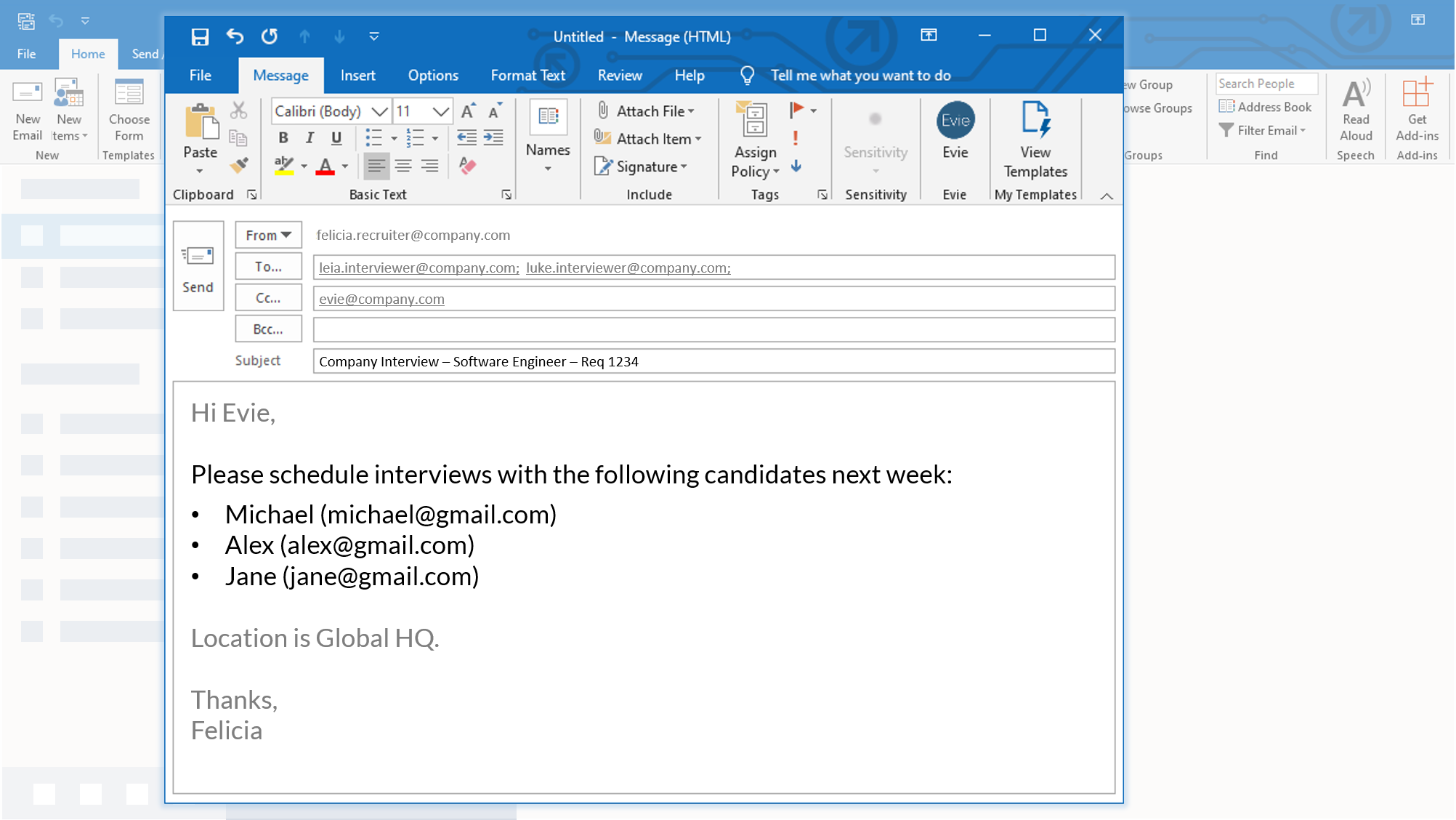 Let Evie work its magic and get all your interviews scheduled in no time!
2. You have one half of the equation
As an excellent team player, you've communicated extensively with your hiring managers and everyone on the interview panel. After some solid intake meetings, you've gathered, among other things, a clear idea of when your interviewers would prefer to meet with candidates.
Well, start scheduling away! Let all your candidates know the available options they have and pick a time on a first-come, first-served basis for maximum fairness.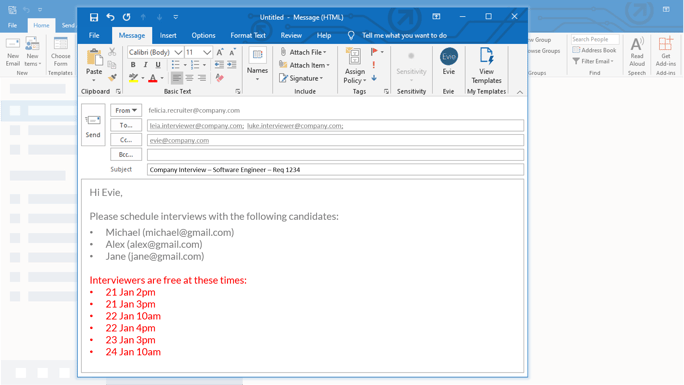 Let Evie know what slots you want to work with and Evie will whisk past your interviewers to have them delivered to your candidates.


3. You received a tip
Information can travel through your hands from any channel and even though Evie leverages one of the world's most popular communication platforms—Email—you are never restricted by it.
Suppose after a call with a candidate, you managed to confirm the best time that works for the interview. Or if over lunch a colleague told you he'll be on vacation next week and wouldn't be able to meet any candidates during that time.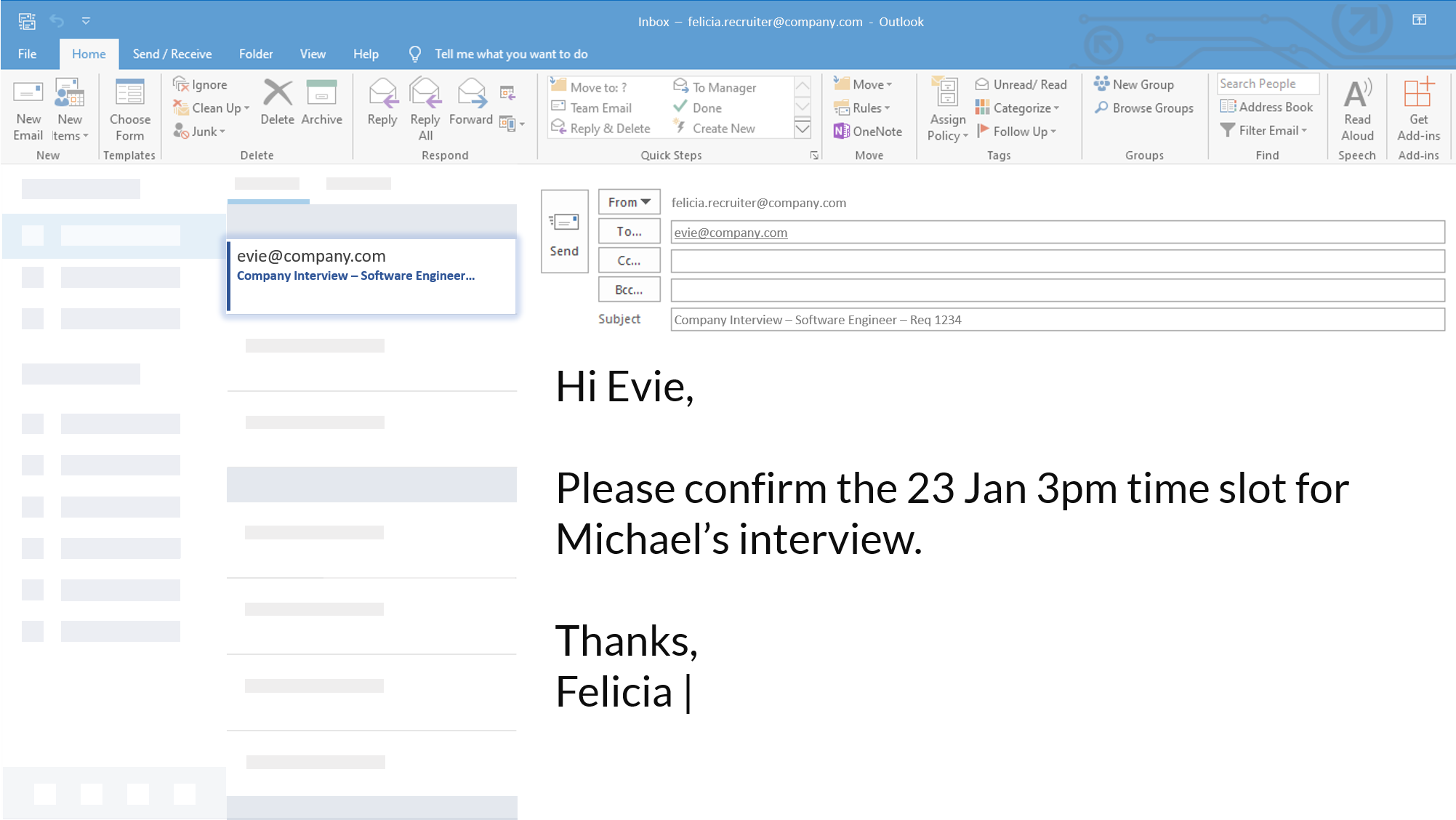 Evie trusts you as the recruiter to have the most updated take on everyone's availability, which means you can simply pass on to Evie any of these soundbites and let Evie's reasoning capabilities figure out what to do next.
Does that extra bit of info help get an interview confirmed? Does it mean there are no longer enough valid slots and Evie needs to get more approved? Who's affected?
Evie's natural language processing capabilities and attention to the needs of each individual ensures every pass is a smooth pass—even if you're not even sure who it should go to.
Evie completes the loop with the finishing touches
All candidates receive a confirmation with the right copy and attachments customized according to whether they are internal candidates or not.
This personalized interview packet could contain friendly guidelines to prime candidates for their interview, directions to the venue and any other instructions they may need to pay attention to.
All interviewers receive an invite on their calendars to remind them of when and where they have to be, and even secure links where they may score responses after each interview.
Your interviewers, too, need just as much support and attachments are a great way to distribute helpful preparation tips or guidelines on fair assessment practices.
And that's all you'll need to do as a recruiter to get interviews scheduled on everyone's calendars—so you'll have plenty of time to focus on sourcing, attracting and hiring the best people.
Contact us to find out how Evie can help your recruitment team, just like one of our enterprise users, Siemens.