You would've read this thousands of times over this year in some shape or form, but in essence, 2020 has been a frightening roller coaster ride. Downwards, for the most part.
The talent acquisition space knows this first hand, and many teams have had to pivot their focus—to rally together, reprioritise, and move ahead with new talent strategies in place. For a lot of large organizations, you can't stop recruiting because there will always be talent needs.
A collective move has been for TA teams to focus on building their tech stack such that they can hit the ground running once recruitment levels begin to return across industries.
As innovators on the frontlines of TA tech and focused particularly on one of the biggest TA operational challenges (that 63% of recruiters want automated), we've spent the year learning, iterating and evolving Evie's capabilities based on the expertise of professional TA practitioners.
There has been a whole stream of enhancements we've made this year, but what we're sharing here will be those that are especially critical in equipping recruiters with an amazingly simple AI interview scheduling assistant.
Seamlessly Generate Unique MS Teams & Zoom Links
Give a Personal Touch with Smarter Flexible Templates
Conveniently Oversee Scheduling from One Place


1. Seamlessly Generate Unique MS Teams & Zoom Links
Many of our customers have shared that more than 90% of their interviews are now conducted virtually, and will remain so for the greater part of 2021. Even after face-to-face interviews slowly become commonplace again, virtual interviewing will be here to stay.
With that said, having a secure private video call link to each interview is now a necessity. This seemingly minute detail is causing more work for recruiters.
Specifically, creating secure one-time links for every interview and copy-pasting them onto separate calendar invites to candidates and interviewers. Rinse and repeat the process enough times and you have yourself a pesky, error-prone time thief on your hands.
With Evie's enhanced online conferencing integration, Evie automatically generates a dynamic, unique Microsoft Teams or Zoom link for each interview scheduled between interviewers and candidates.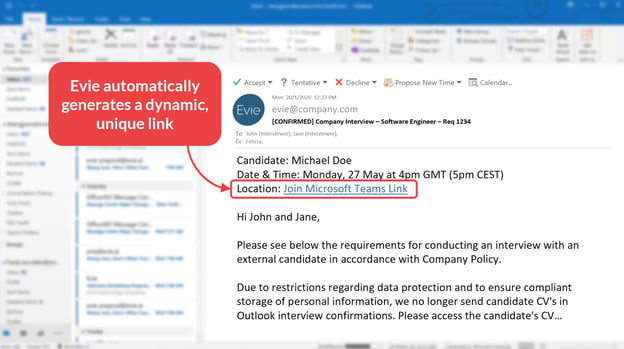 2. Give a Personal Touch with Smarter Flexible Templates
Coordinating interviews is already a demanding challenge and it is not where the tedious work usually ends.
Most large enterprises have certain information and attachments that they relay to interviewers and candidates prior to the interview to help both parties prepare.
But it doesn't stop at one basic template for all roles. There will be variations in the content and attachments between different hiring regions, whether it is a senior or entry-level position, or even down to what the role is! These examples aren't exhaustive either—we anticipate there might be many other factors that contribute to varying templates.
With that, recruiters need to spend the time, effort, and energy to be accurate during the last mile of setting up interviews. Unless they've got Evie helping them with that.
Evie is able to automatically communicate the right templates and attach the correct documents based on different factors. Additionally, interviewers can be configured to receive templates and attachments that are completely different from the ones sent to candidates.
Recruiters only need to inform Evie of the differentiating factor of the interview being scheduled along with their initial request. For example, you only need to specify that the role is that of a Software Engineer, and Evie will know to send the specific information needed in the confirmation emails and calendar invites.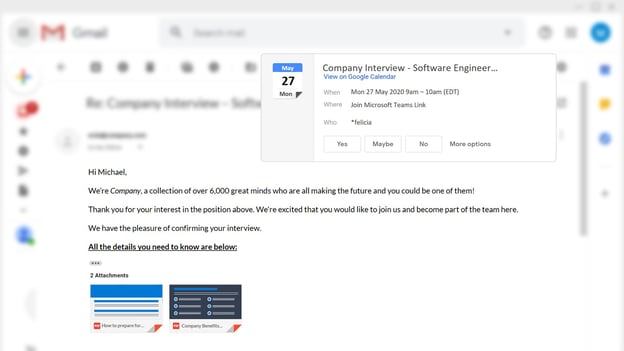 3. Conveniently Oversee Scheduling from One Place
Despite off-loading all this operational work to Evie, recruiters remain the key stakeholder who takes full responsibility over the scheduling of these interviews.
As such, it was key that we developed and equipped them with the ability and convenience to oversee all the scheduling Evie is doing for them from a centralized dashboard.
From a single page, recruiters will be able to track the progress of every candidate for all active scheduling requests. So whether they're waiting for some new time options, they have yet to respond, or they've confirmed a time, recruiters will be able to track these statuses.
Moreover, recruiters can step in at any point in the scheduling process if they need to right from the dashboard—so they'll always have full control of any situation.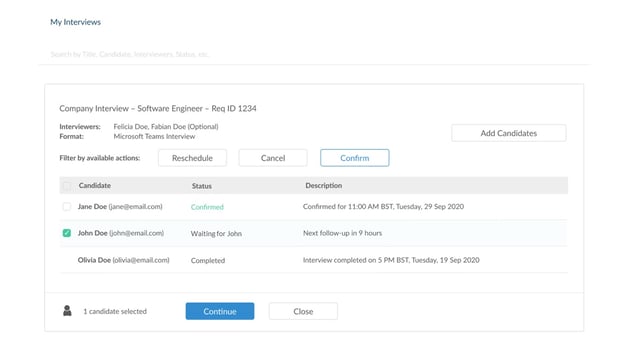 Accelerate Hiring with Evie, AI Recruitment Coordinator
The three features highlighted help recruiters save up to 30% of their time, so that they can move away from the manual, low-value to high-value core work like sourcing and screening for the best talent for each role.
According to Diane Circo, VP of US Talent Acquisition for Siemens, "the goal is to break down silos and to do more cross functional work and more co-creation to solve problems. In other words, you organize the team around the work, as opposed to making the work fit the team."
As we move into the new year, Evie will continue to grow in ways that further optimize the recruitment coordination process for TA teams to help them focus on the human side of TA.